I am so excited to share this news – however unrelated to photography it may be. My friend, Phil Stead, has just announced that his debut picture book, "Creamed Tuna Fish and Peas on Toast", (ROARING BROOK PRESS, September 2009) is currently available online for pre-order! This book has been a long time in the making and I am so thrilled for him that the time is finally here for people to finally start enjoying it.
I had the chance last winter to see the book in person as well as some of Phil's original artwork and it is absolutely amazing. At the risk of totally botching this description, I will just say that he uses a collage method for the artwork that is totally unique. He recently did an interview that does a great job (way better than I could do!) of describing his process and the book itself (as well as his next one) – you can check it out here. You can also preview some of the pages from the book on Phil's website.
The book will be sprucing up local bookshelves near you on September 29 but can be ordered through IndieBound (or Amazon, but why not support a local store by using IndieBound?).
I'll leave you with a quick description of the book, taken from Phil's site and an image of the cover:
"Creamed Tuna Fish and Peas on Toast" is a retelling of a strange but true Stead-family story. In the mid-1950's, in a fit of epic rage, my Grandpa Jack buried his least favorite meal (creamed tuna fish and peas on toast) in the yard outside the house. He punctuated the moment by carving a headstone for the vile dish: Here Lies Creamed Tuna Fish and Peas on Toast – Rest in Peace. All of the characters in this book are my real family members. Wild Man Jack and Mama Jane are my grandparents. Susie, Danny, Nancy, and Margie are my aunts and uncle. Bobby, the youngest, is my dad.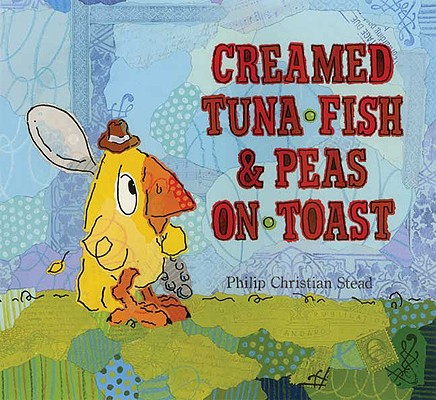 PIN
Congratulations, Phil!