I was recently invited to second shoot with Jessica Limeberry of Lemongrass Photography in breathtaking South Haven, Michigan and I was so, so excited to visit Michigan's west coast once again. I was delightfully surprised when I arrived to find that John and Georgina's wedding day was the most relaxed one I'd seen yet. It made me feel like I was on vacation, if only for a day!
When I met Georgina she was getting the last bits of her hair curled, something she said she may never have seen her own hair do before. Shortly after that, I left to meet up with John and the rest of the guys at Captain Lou's right on the water in South Haven. I immediately knew this was going to be my kind of wedding – relaxed and full of laid back appreciation for the celebration and the people who were there to celebrate with. John and his friends were super kind and treated me like one of their own.
Soon, we headed to South Haven's Sleepy Hollow Resort where the ceremony would later take place. In the meantime, there were relaxed games of ping pong, laps in the pool, and folks lazing on various benches around the resort grounds. John likened it to being at camp with everyone you love. How appropriate…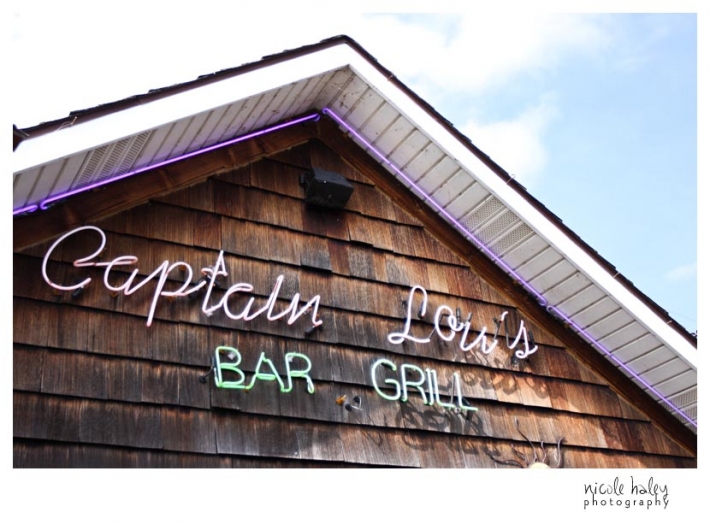 I just loved the beachy feel on the patio at Captain Lou's. :D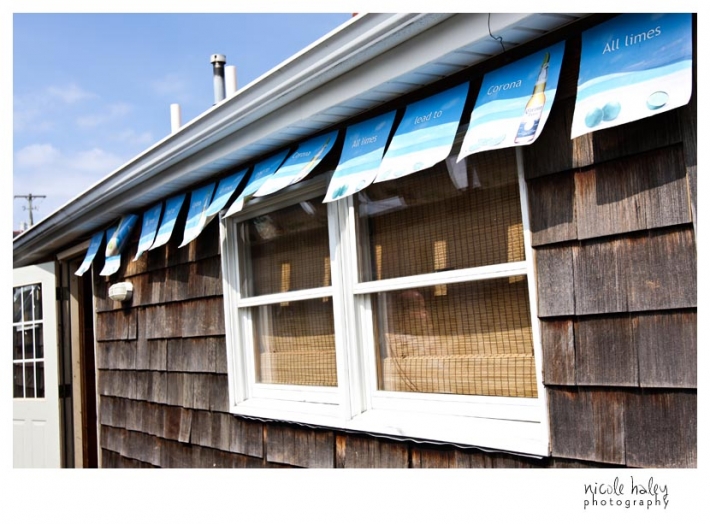 What better than to have all of your wedding guests in town to help you get ready for your day with a ping pong tournament or a time out on a blue bench?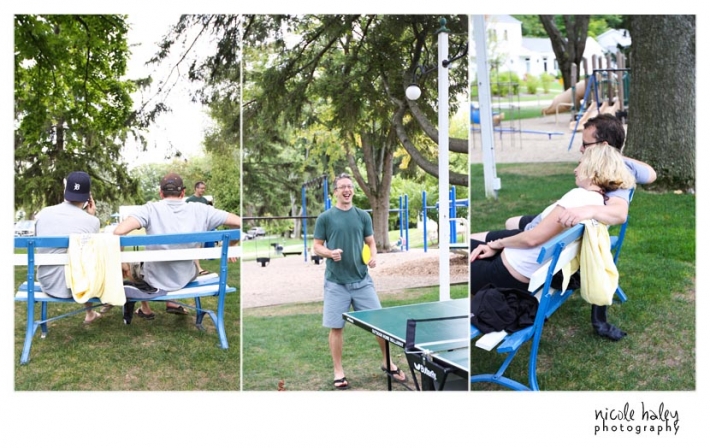 John getting ready with the help of his sister. And then the short walk to the beach at Sleepy Hollow Resort, where he and Georgina would soon marry!
This little guy stole my heart right away. He was a little shy at first but, just like is dad warned, he soon became the mayor of the place!
Georgina and John had arranged for all of their guests to wear blue sandals down to the beach so the sand could run through everyone's toes. It was definitely a small detail that totally added to the relaxed feel of their day.

Melt. My. Heart…
Georgina and her dad. And John's reaction to seeing his breathtaking bride:
After the ceremony, we headed to the pier and to the South Haven Lighthouse for some photo fun:
As they walked down the pier, they were greeted with honks and waves from the boats and people passing by. It was like a celebratory stroll with everyone congratulating them!
They were simply radiant together:
And a total blast to be around. This group had us laughing all day!
I loved their cake!
I'm pretty sure this is my super duper favorite from the day. It summarizes everything they had going for them that day – fun, lightheartedness, and love!
The sky was amazing! And I felt so fortunate to be able to watch the sun go down from the tent where the couple's reception took place.
And while I'm talking about the reception…well, the reception was a downright blast. Can't you tell?
Thank you, Jessica, for inviting me out! It was a pleasure – truly – and really felt like a miniature vacation!