They met at the YMCA while they were working out. Rachel resisted it at first but then finally gave in and went out with Lindsay after he'd asked a couple of times. They had a good time but Rachel was still a little hesitant. By this point, or at least how it sounded when they told me their story, they were both playing a little hard to get. But Rachel still went with one of her friends to a party Lindsay was hosting one evening. They spent the evening glancing at each other from across the room, both hoping the other would be the first to make conversation. But neither ever did. So, Rachel and her friend did what any girls would do…they left. But then they spent the rest of the night talking about how ravishing Lindsay looked in the suit he was wearing. A short time later, Rachel emailed Lindsay and, once again, they made plans to get together. And, from what I'm told, when they finally met up again, they hung out for approximately two weeks straight just enjoying each other's company. Lindsay said he knew there was something intriguing about her. Rachel was just different. And, since I've known Lindsay for a handful of years, I'm so happy to see him find Rachel because, sometimes, different is good.
And so, on August 1, was honored to be part of their wedding day to celebrate just how different Rachel was and just how ravishing Lindsay was.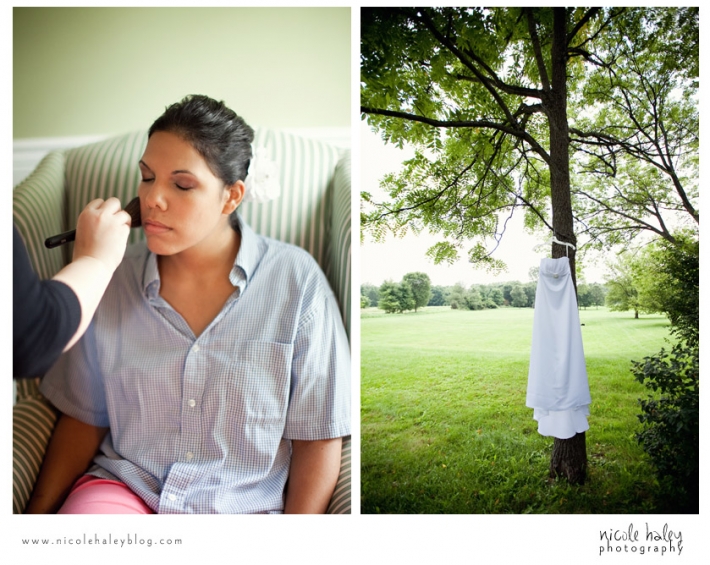 Thanks to Andrea who helped me out that day and got some great shots of Lindsay getting ready!
Rachel and Lindsay opted to have a "first look" which allowed them a moment of time completely alone – which I've found is pretty rare on a wedding day – to soak in the magic of their day. I just love the pure emotions that these "first looks" bring out.
Thanks again to Andrea for this shot:
Rachel, you are beautiful.
And, Lindsay, you are ravishing! ;)
Beautiful couple, no?
The details of their reception were simple yet elegant and I loved how, rather than table numbers, they used phrases or specific memories that were important in their relationship. It really brought their personalities out for everyone to enjoy!
Mmm…
Lindsay and his fraternity brothers sang a hymn toward the end of the evening. I just love this moment:
Lindsay and Rachel: Congratulations again! It was a true honor to be a small part of your wedding day and to watch as you made each other smile and laugh. Best wishes as you start your new lives together – you guys are a great couple and I wish you a lifetime of health and happiness. And I hope you had a great honeymoon!
XO,
nicole